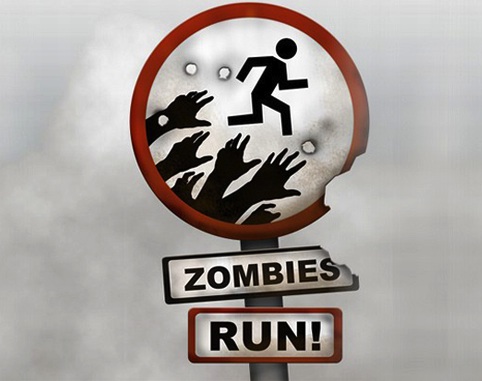 I don't know if you have ever heard about the fitness app, Zombies, Run! But I'm here today to open your eyes to what is probably one of the greatest things ever.
Zombies, Run! is an interactive fitness app and probably the only reason why I'm still staying on top of my online fitness class. When you run, jog, walk, hike, or whatever it delivers a story to you through your headphones. With each mission you evade zombies, collect supplies, build up your town, and get closer to solving the big outbreak mystery of the zombie virus. You can go outside or on a treadmill and listen to your own music in between the audio clips. You will have to outrun zombies occasionally but the good thing is if you get caught, you don't die, (phew!) instead you loose supplies. Your player, Runner 5 (my favorite number!) is tasked with 30 minute (or you can set them to an hour) long missions to retrieving supplies or spying on rival towns!
Convinced yet? Zombies, Run! has just released their second season today! I am over the moon excited to go for my walk today! This app is creative and motivational and will not disappoint you! It's also my favorite and fills me with a strange mixture of excitement and paranoia every time I go out. Maybe it's just me and my runaway imagination but I occasionally have to remind my self that my neighborhood is not really infested with zombies. Of course it doesn't help when I often pretend that all my neighbors are actually zombies.
Happy running!
xo ~ Shera