James Stewart stars as L.B. Jefferies, a photographer with a broken leg, home bound and bored, who has taken up spying on his neighbors with a pair of binoculars for entertainment. He becomes convinced that one of his neighbors has committed murder and with his girlfriend, Lisa, sets off to solve the case. Lisa is played the stunningly beautiful Grace Kelly so you know a movie with these too has got to be good! The 2007 Shia Lebouf film, "Disturbia" is actually a remake of this classic film. This Hitchcock thriller will keep you guessing and holding your breath till the end!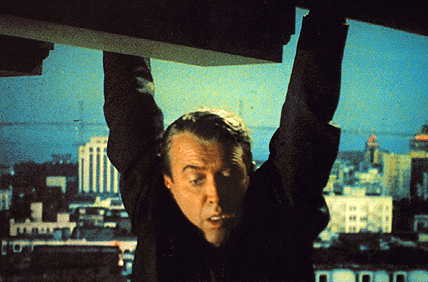 Another Hitchcock film, (I promise they aren't all!) Once again starring James Stewart as John "Scottie" Ferguson, a retired San Fransisco detective who now suffers from acrophobia (a pathological fear of heights) and can get vertigo (
see this word of the day
) just by standing on a chair. He is asked by an old friend to investigate his much younger wife who is involved in some pretty strange activities. But at the same time Scottie finds himself becoming more and more obsessed with the beautiful but strange woman played by Kim Novak. There are a lot of twists and turns in this movie - a lot of which I didn't even understand! With plenty of retro special effects, this movie is sure to be a Halloween delight!
Directed by Alfred Hitchcock (last one I promise) and based on a stage play by Frederick Knott, "Dial M for Murder" stars Ray Milland as Tony Wendice an professional tennis player living in London with his wealthy wife Margot, played by Grace Kelly. Margot is having an affair with an American crime-fiction writer so Tony hatches a clever plan have his wife murdered by blackmailing a petty criminal. Things don't go as planned however and Tony must improvise quickly if he wants to carry on with his heinous plot. This good old fashioned crime mystery will keep you on your seat!
Starring Cary Grant as Mortimer Brewster, a drama critic who, despite having published a books citing that marriage is old fashioned, marries his sweetheart Elaine Harper on Halloween day. Before leaving on their honeymoon, Mortimer stops by to visit his elderly aunts, who are regarded as the sweetest women by their neighbors and his brother Teddy who believes himself to be Theodore Roosevelt. Just as he is planning to leave, Mortimer discovers that his aunts are really homicidal maniacs who poison lonely elderly men and bury them in their basement. Things get more complicated when Mortimer's brother Jonathan arrives, a murderer on the run from the police with his plastic surgeon accomplice, Dr. Einstien. This dark comedy is based on a play by Joseph Kesselring. Probably one of my favorites, it's laugh out loud funny, plus it has Cary Grant who makes the greatest faces!
Clue
It's based on the board game, (my favorite) 'nuff said. Side splitting humor and three different endings! What more could you ask?
It's the Great Pumpkin, Charlie Brown
xo ~ Shera